27/07/2010: Aspire Academy for Sports Excellence chose coachfx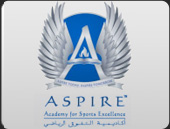 We're pleased to announce that Aspire Academy for Sports Excellence have chosen coachfx as their new software provider for soccer coaching. Located in Doha, the capital of the State of Qatar, in the heart of the Arabian Gulf, Aspire Academy are regarded as one of the leading elite sports institutes in the world.
World class coaches and sports scientists work with student-athletes to give them the opportunity to become sport champions. Coachfx will play an integral part in the preparation of their soccer training programmes.
Find out more on the Aspire Academy for Sports Excellence website at http://www.aspire.qa
Other news articles
George Cumming's Football Blog
The naivety of Stuart Pearce
Sometimes coaches can get carried away with themselves. How many times do coaches say in the post match press conference that they did not see a controversial incident which favoured their team while having perfect vision to see another incident the same distance away which went against their team? Pearce's comments before the opening Team GB match [...]
Posted by George Cumming on Thu, 26 Jul 2012