Products
Which CoachFX are you?
CoachFX is separated into 2 areas - Single Licences and Solution Licences.  Please select a tab to review and decide what product is best for you or your organisation.


CoachFX 360
Subscribe to our stunning new Cloud-based, 3D session designer. Create your sessions online, view the action from any angle and share your sessions effortlessly with other users. Seeing is believing! Find out more at http://www.coachfxlive.com/session-designer
£6.50 / month per user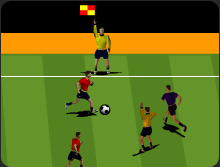 CoachFX PRO
Breathe life into your coaching sessions with CoachFX PRO. Visually show your players what you want them to do. Full functionality including animated referees, a range of analytical tools and combine all this with digital video.
£125 per user license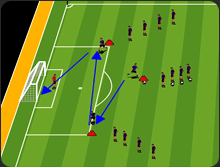 CoachFX LITE
Create realistic animations or print illustrations of coaching sessions - CoachFX LITE is the ideal solution for bring your coaching to life. Two teams of 25 players available to use along with a huge range of equipment and tools.
£99 per user license
CoachFX DRAW
If all you want is the ability to draw, show and print your coaching session, then CoachFX DRAW is the ideal choice. Quick and easy to master, CoachFX DRAW helps to illustrate coaching points and aids communication with your team.
£25 per user license
Session Packs
If you're looking for content then coachfx session packs are ideal. With 10 sessions in each pack, choose from a range of topics. All sessions are created by professional coaches and are perfect for building up your coaching syllabus.
£10 per session pack (10 sessions in each)
Broadcast Licence
A CoachFX™ Broadcast Licence takes all the amazing functionality of CoachFX™ PRO and allows the user to publish the content created.   The content can be produced in both hardcopy and / or digital facilitating the opportunity for the user to reach out to the wider soccer community and share their ideas, philosophies and knowledge of the game.
The licence suits those involved in non profit organisations such as youth soccer clubs, regional associations, national governing bodies and those with a membership they wish to share good practice with. The licence expressly restricts any commerciality or merchandising opportunities created as a direct result of the use of CoachFX™ wholly or in part.
Examples of clients who have a Broadcast Licence include the Scottish Football Association, Asian Football Confederation, Coerver Scotland and Rangers Football Club.
Price £1,499.00 (3 Year Term, Annual Renewal Fee £250.00) Terms
Commercial Licence
Upgrading to the CoachFX™ Commercial Licence allows the user to publish and fully commercialise their content in both hardcopy and / or digital formats.   The licence provides the user with all the benefits of using CoachFX™ PRO and creates the huge opportunity to develop and merchandise either online content, DVD's or even books and magazines.
The licence is of particular use to those already engaged in selling coaching services within the soccer community whether that be coach education or play or team coaching.  

Examples of clients who have a Commercial Licence include Albury Soccer, Absolute Footie, Elite Soccer Conditioning, United States Adult Soccer Association.
Price £2,499.00 (3 Year Term, Annual Renewal Fee £899.00) Terms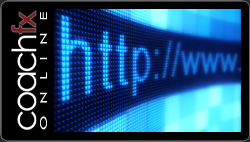 Online Development
Express Coaching Limited has been at the forefront of the production of digital content for the soccer marketplace providing software solutions, content, creative and delivery for both online and offline communication projects.
Clients such as FIFA, adidas US, Scottish Football Association, Asian Football Confederation, Benfica and Rangers Football Club have all benefited from our creative insight and in depth technical knowledge to launch content, mobile and online projects on time and to budget.
coachfx™ Solutions is the online agency within Express Coaching Limited. It is a stand-alone business unit supporting existing multi-platform projects and providing strategic, design and developmental resource to all clients. CoachFX™ Solutions produces well thought out, exciting and successful online projects for a broad range of clients from first time internetters to tech-savvy users across all demographics.
Our approach is based around a dialogic User Centred Design (UCD) methodology and as such we invest a significant amount of time in determining the best user driven solution. This results in our solutions are accessible and useable making the experience rewarding for the end user and successful for the client.
We are based in the UK however we deliver globally and have extensive experience in Asian and US markets. We adhere to the latest accessibility guidelines and worldwide standards, delivering solutions using best practice in technologies such as HTML5, CSS, XML, Flash,PHP ann JQuery. We have a platform agnostic approach to partnership and aim solely to deliver the best tools and platform for the client.
Price: We have a number of options available including revenue share, site development only, content provision. Please enquire at sales@coachfx.com.
Current projects